We've reached a critical stage of our efforts to save Moseley Road Baths and are going to need your help. Can you contribute to our crowdfunder?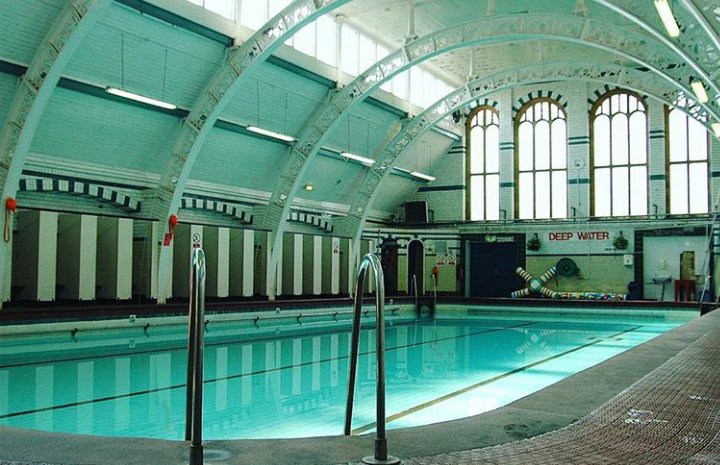 As you know already, Moseley Road Baths is one of the nation's most significant heritage swimming pools – it is the oldest Grade II* Listed baths still open for public swimming. It's also much loved and well used as our community pool, where last year nearly 80,000 people swam.
Together we have already made huge steps in securing the future of Moseley Road Baths, as you can read elsewhere on this website. The Baths were earmarked by Birmingham City Council to shut last July,  but our community campaign and the support of heritage organisations led to the Council granting a reprieve. Thank you to everyone who helped in any way with that!
So the newly formed Moseley Road Baths Community Interest Company (MRBCIC) now has nine months to develop a workable model for swimming, with the aim of taking over operational responsibility for water activity from April 2018. Since then we have been working hard – liaising with heritage partners, bringing in advisers, understanding the community swimming need and producing a business plan.
Our business plan shows that MRBCIC can break even within three years but, in the first year, we need to raise £75,000 to help pay for essential things like staffing, heat, light and water. We realise that £75,000 is a huge amount of money and are seeking grant funding for some of this, but we are also calling on your support to add to this, helping us meet two critical costs. Could you support us by giving a donation, large or small? You also have the option of claiming one of our rewards.
Our initial target is to raise £13,552 to train 8 volunteers in lifeguarding, swim teaching as well as in customer service skills, health and safety, etc. Each volunteer must be trained so we can offer safe swimming on every occasion we are open.
Once we have raised that, we will still very much need your donations and they will be put towards things such as keeping the water clean and paying for the lighting and heating.
You can read the executive summary of our business plan here to get a stronger idea of what we are proposing. If you have any questions or want to get more involved you can contact us at keepswimming@moseleyroadbaths.org.uk.
Securing the future of swimming is only one piece of the jigsaw. We're also working as part of the recently-formed Moseley Road Baths Coalition to create a sustainable future for the Baths. MRBCIC, alongside the Friends of Moseley Road Baths, the National Trust, Historic England and The World Monuments Fund are currently developing longer term, sustainable plans for the building's use and are working with Birmingham City Council to secure capital funds to deliver urgent repairs.
We also realise that many people support our aims, but simply can't afford to give anything. We understand this and ask that you sign up for our newsletter so you can help us spread the word to as many people as possible. You can also follow us and share our campaign updates on:
Facebook: https://www.facebook.com/friendsofmrb
Twitter: @moseleyrdbaths
Instagram @moseleyrdbaths
THANK YOU!